Top Story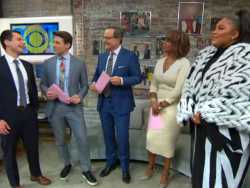 Multi-Grammy nominated Lizzo - who is also TIME Magazine's "Entertainer of the Year" for 2019 - chatted with openly gay Democratic 2020 hopeful and mayor of South Be...
1 thru 10 of 50772 Stories
Chinese television pulled coverage of Arsenal's Premier League match against Manchester City after Mesut Ozil, a forward for the London club, criticized Beijing's brutal mass crackdown on ethnic Muslims in the country.
Former FBI Director James Comey acknowledged Sunday that a Justice Department inspector general report identified "real sloppiness" in the surveillance of a former Trump campaign aide.
Anna Karina, the French New Wave actress who became an icon of the cinema in the 1960s and was the muse of Jean-Luc Godard, has died. She was 79.
Climate activist Greta Thunberg and Germany's national railway company created a tweetstorm Sunday after she posted a photo of herself sitting on the floor of a train surrounded by lots of bags.
A shooting that wounded one man in a mall food court sent suburban Atlanta shoppers fleeing in panic Saturday.
Night falls in Brazil's Amazon and two logging trucks without license plates emerge from the jungle. They rumble over dirt roads that lead away from a national forest, carrying trunks of trees hundreds of years old.
The Newtown High School Nighthawks won the Class LL state championship on a 36-yard touchdown pass as time expired, beating Darien 13-7. The title was the first for Newtown since 1992. The team ends the season undefeated.
Born into a family of Cornhuskers and raised in the Buckeye state, Joe Burrow left his roots behind and became a Heisman Trophy winner at LSU.
The gleaming white booth towered over the medical conference in Italy in October, advertising a new brand of antidote for opioid overdoses. "Be prepared. Get naloxone. Save a life," the slogan on its walls said.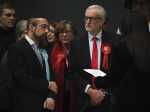 Labour Party leader Jeremy Corbyn apologized Sunday for this party's crushing defeat in the British general election but defended his campaign, which failed to resonate with the party's working-class base, as "one of hope rather than fear."
1 thru 10 of 50772 Stories