Top Story
Police in Serbia briefly clashed with far-right supporters who tried to prevent a gay pride parade attended by the country's openly gay prime minister on Sunday.
More than 1,000 members of the LGBTQ community and their supporters marched through New Delhi on Sunday to celebrate India's sexual diversity, which they said is progressing but still has a long way to go to become a more accepting place for them.
It was a beautiful day, and the crowds came out to celebrate Palm Springs Pride, and to support the LGBTQ community.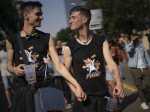 Thousands of revelers packed the streets on Saturday to celebrate the 30th annual Johannesburg Pride parade in South Africa's economic capital.
This year's Come Out With Pride celebration was so huge, that we just had to post part two.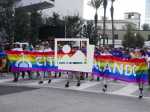 What a beautiful day for a celebration! The crowds came out to show their Pride and to support the LGBTQ community as they enjoyed this year's Come Out With Pride.
Gay Pride Around the World