Top Story
The state Fish and Game Commission on Wednesday approved protections for five of six populations of the foothill yellow-legged frog.
Twitter is bringing back special labels to help users identify accounts and tweets from U.S. political candidates.
Officials say efforts to make areas like a road corridor in Northern California more fire safe are undercut by property owners who refuse to let fire crews work on their property.
Facebook's stock dropped almost 3% in regular trading after news reports suggested that the FTC may take antitrust action to prevent Facebook from integrating its disparate messaging apps.
Scientists who've studied the curious chemistry of the opioid tramadol use an array of adjectives to describe it: "Unpredictable," "messy," "crazy."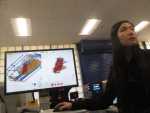 The federal government is enlisting the help of the private sector to develop better ways to spot and intercept illicit opioids shipped into the United States through the mail.